Here you can view emails we have received from previous members of the club. If you are a past member of the club we would love you to get in touch with us using the contact page.
From: Helen
Hi Harry
How are you? Its been a very long time. I remember us living down the same road lol… I came to the website as I was seeing if you were on facebook. Its good that you have a section for past members.
I keep in contact with Lea on face book. I'm now married with 2 daughters who love swimming. Living in Devon which has been brilliant for us. Remember Karen my sister she is now a swimming instructor and is doing well. I will always remember the trips to London to see the lights, I hope you still do that lol… Its been great writing this. All the best and take care.
Helen
From: Claire Hewlett (Turland)
Dear Harry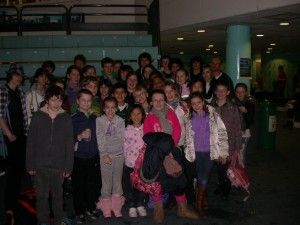 I'm not sure if you remember me, its Claire Turland (Although I am now married hence the different surname). My son Benjamin is now a member of a local swim school and I was chatting to one of the teachers about looking to gain my ASA level 1 qualification. I was reviewing the ASA website and then I stumbled across your website and the email from Dax. I too was pleased to see that not much has changed, apart from the size of the transport! It was good to know that you continue to teach youngsters not only a valuable skill, but I am sure they continue to have as much fun as we did and then will go on to treasure there memories.
I have been living in Andover in Hampshire since 2001, I am now married and have a son, Benjamin who is 5 years and a daughter, Lily Rose who is 3.5 months. I really hope that they will enjoy the benefits of learning to swim and the friendship and values that being a club member can bring. I certainly still hold a passion for the sport, enough to want to be able to pass it on to others, including my own children.
Thank you for all that you did for me back then – I have not forgotten it and I still smile to myself when thinking about the memories I hold of my time at the club.
It would be great to hear from anyone that remembers me.
Take care and thanks again, Claire
From: Dax Cowan
A long time has passed since we last spoke, I have been living in Australia for the last 8 years, and I have moved to Japan in the last year. I have just visited your website out of sheer curiosity and was amazed to find that apart from down-sizing the bus it seems that not much has changed. I often speak with Kai and occasionally John and Steff – I was back in England in February for a week and caught up with Rob Naylor and Steffie for a couple of beers. I often see Kai, I lived round the corner from him for the last 4 years and will see him when I go back to AUS next week. I'm sure our names are historical and old news now that you have some excellent young charges to focus on. I have gotten back to a bit of swimming and also just starting some coaching for adults who can't swim.
I hope you are well Harry, and if anyone you think I may know is still associated with the club please say hello to them too. Thanks for everything you did for me as a kid, I probably didn't appreciate it back then but I do now, your influence and coaching have more relevance to my life than anything I learned at school.
Best Regards, Dax Cowan